Quick Product Links
---
Data Integration, Replication, and Migration
---
---
DPSync: Real-Time Propagation of ADABAS Transactions

Treehouse Software's DPSync is an off-the-shelf, total solution for native, real-time transformation and propagation of ADABAS data to RDBMSs that is fast, comprehensive, and minimizes the impact on production applications.
DPSync delivers critical information stored in ADABAS to relational databases in real time, providing immediate access to ADABAS data updates without impacting ADABAS performance. DPSync incorporates capture and queueing technology called Java Messaging Service (JMS). DPSync also incorporates as components tRelational and DPS, the leading ADABAS-to-RDBMS data transfer toolset.
DPSync provides all of the tools for analyzing ADABAS data, defining the RDBMS, defining the transformation process, generating the metadata for transformation, extracting, transforming, and loading the RDBMS tables, and transforming and applying the updates in real-time mode.
Unlike other solutions, DPSync customers are not obliged to acquire a separate, non-integrated message-oriented middleware product in order to complete the architecture.
tRelational - ADABAS analysis, RDBMS modeling, and metadata management
DPS - ADABAS-to-RDBMS transformation
JMS - Real-time ADABAS transaction capture and queueing
RSU - Application of the generated SQL to the RDBMS
DPS/R - Routing of ADABAS transactions from RRDF to DPS subtasks and routing of SQL to RSU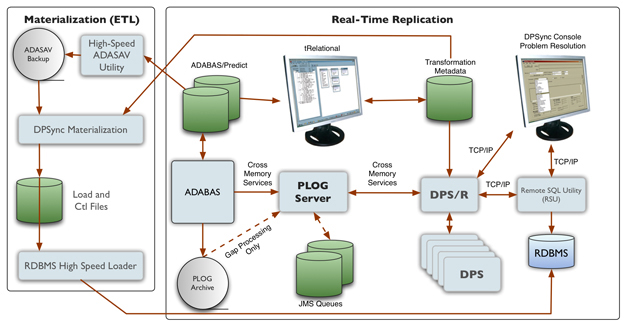 Free White Paper
Data Modernization as the
Gateway to Legacy Modernization

---
Success Story
DPSync with tRelational/DPS was chosen by Dexia Banque Internationale à Luxembourg over its principal competitors.
Established in 1856, Dexia BIL is a pre-eminent European institution in the fields of retail banking, private banking, trading on financial markets, asset management, and fund administration. The Dexia BIL team members analyzed the options and made their decision based on a matrix of their needs. tRelational/DPS impressed everyone with its RDBMS data model generation capabilities, product maturity, stability, replication to different targets (like Oracle, Sybase, and flat files), graphical user interface, quality of support and responsiveness to questions, ease of installation, and no impact on ADABAS nuclei.