Quick Product Links
---
Data Integration, Replication, and Migration
---
Application Modernization and Portfolio Management
---
---
Enterprise Enabler
A SINGLE PLATFORM FOR ENTERPRISE AND CLOUD INTEGRATION
DATA VIRTUALIZATION (DV)--ETL--EA--SOA
DESIGN--DEVELOP--TEST--DEPLOY--MONITOR
The Platform
Single User Interface, Single Metadata Stack: Configure all integration from within the single user interface. Build and share metadata instructions across the entire environment without coding.
AppComms: Intelligent connectivity that knows how to discover data and source/destination specific information for selection at design time. An AppComm knows how to perform Read and Write operations with any particular endpoint. It also takes instructions from the Transformation Engine and acts on those commands.

Transformation Engine: Federates live across multiple dissimilar sources by orchestrating AppComms, aligning, transforming, and validating data along the way. This federation is applied whether it is a Data Virtualization, ETL or EAI.

Data Workflow Engine: A composite application builder for visually designing and executing the data workflow logic around (usually) a transformation and physical movement of data. Workflow processes are event-driven and support parallel processing, sub-processes, error detection and management, and can be auto-packaged as SOA web services hosted by Enterprise Enabler.


Enterprise Master Service: Data Virtualization is accessed/queried on-demand. With a single click, EMS packages and hosts the DV for consumption as SOAP, REST web services, SharePoint BCS, with connection strings for ADO.Net, OData, ODBC, JDBC or customized.

Integration Integrity Manager (IIM): A patented process that leverages the metadata stack to continuously monitor the integrated environment to ensure that any unexpected changes in the endpoint schemas are detected immediately with impact analysis and notifications.
Complex Integration Patterns
Because of the cohesive nature of Enterprise Enabler, it is easy to define complex patterns. For example, combine data virtualization with cached ETL, where the cache may be a federation of data that rarely changes, so is updated periodically. The cache then becomes another source to the live data virtualization, available on demand. This serves to reduce the hits to backend systems, which can become a concern in DV data patterns.
Leveraging the Platform
Enterprise Enabler is 100% metadata driven. To that end, it is easily extensible by using the built-in code editors for VB.Net or C# to write and test code snippets for business rules, or to incorporate business rules that already exist as external services. Custom process nodes and business rules are pluggable, and global variables offer visibility across the platform to their state at any time.
Reduce Time and Cost using Enterprise Enabler
Requirements Building & Planning -- 30% to 35% Time Savings
Streamlined architecture and fewer architectural components

Reduced number of data stores to be defined (eliminate staging databases)

Data mapping specs developed and validated in the product

Reduced overall documentation scope
Development, Testing, Production -- 65% to 90% Time Savings
Codeless native to native transformations

Skill sets readily available - .NET vs expensive proprietary training

Single environment for Dev/Test/Deploy/Monitor/Maintain

Significant amount of Dev activities automated "behind the scenes"

100% metadata driven

High reusability combined with live change impact analysis
Ongoing Solution Maintenance -- 90% to 98% Time Savings
Eliminates all traditional API code maintenance

All metadata stored together

Endpoint applications and integration monitored by IIM*

Reduced down time/fix time from "broken integrations" with IIM*

Clean modifications with IIM

Changes/additions/updates applied in minutes

Specs and changes captured automatically, available electronically

Runtime integration monitoring tools
Hardware: Microsoft OS vs. Unix
Benefits of using Enterprise Enabler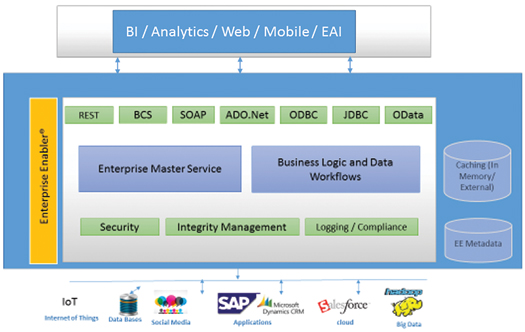 Apart from the speed of development and ease of modification as requirements change, it is possible to rapidly construct enterprise-grade integration solutions that simply cannot be done without Enterprise Enabler.
tcACCESS is the Mainframe AppComm!
tcACCESS enables two-way integration between IBM mainframe systems and Enterprise Enabler, without the need for mainframe knowledge or programming effort. Mainframe data sources including Adabas, IMS/DB, DB2, VSAM, CA IDMS, CA Datacom and flat files, and other resources like COBOL and Natural programs and 3270 terminal screen contents, can be fully integrated into virtual schemata within Enterprise Enabler and exposed as Enterprise Master Services.
Supported Environments for tcACCESS
IBM Mainframe:
IBM z/OS, z/VSE, z/VM
Server environment:
Microsoft Windows, HP-UX, AIX, Solaris, Linux, all platforms supporting Java
Connectivity types:
TCP/IP, TN3270, SNA, LU6.2 (APPC), and LU2 (3270 terminal emulation). WebSphere MQ (optional)
---
Download