Quick Product Links
---
Data Integration, Replication, and Migration
---
Application Modernization and Portfolio Management
---
---
NatCDCSP: The NATURAL Change Data Capture Answer for ADABAS
As ADABAS handles Store, Update or Delete transactions that occur against files, the specific details of each transaction can be optionally recorded in a sequential file called the ADABAS Protection Log (PLOG).
While the primary purpose of the PLOG is for use as a data recovery mechanism in the case of a system failure affecting ADABAS, the data contained in the PLOG is ideal for use as a source in providing Change Data Capture (CDC) from ADABAS. The problem is that PLOG data must be carefully processed in order to convert it into a usable format.
Fortunately, Software AG delivers utility programs with ADABAS that are specifically designed to work with PLOG data. Unfortunately, these existing utilities fall very short of providing a complete answer for delivering PLOG data into a usable format. Many organizations requiring CDC from ADABAS have hand-written custom processing to leverage these existing PLOG utilities. This hand-written approach, however, does not lend itself to the rapid delivery of needed CDC. Furthermore, once these custom CDC processes are written, they become in-house applications that must be maintained if file layouts change (which they often do), and/or the requirements of CDC changes (which they always do).
NatCDC is the NATURAL answer that leverages the PLOG utilities Software AG provided with ADABAS, and provides for the graphical generation of NATURAL programs to handle the output of these utilities to produce usable CDC from ADABAS.
This approach results in a low-cost, high-performance CDC solution that utilizes the raw horsepower already present in a Software AG environment, and which generates or regenerates complete, ready-to-execute replication processing in minutes.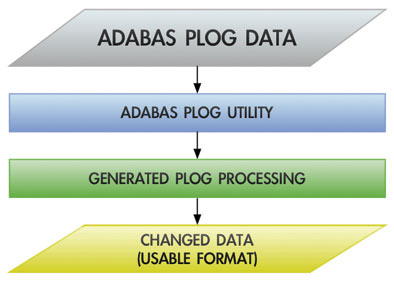 General List of Features
All generation is accomplished from a full GUI
Optionally delivers either "Optimistic" or "Committed" transactions
Optionally delivers Delta images, Logical First and Last images, or All images
Converts all ADABAS data from EBCDIC to ASCII, and properly handles difficult datatypes like ADABAS Date and Timestamp fields
Optionally generates files that describe the layout of the final delivered data so that the data can be immediately integrated into ETL tools such as IBM's DataStage Suite
Optionally generates an Offset Report for manual integration with desired targets
Integrates with server through automated FTP
Delivers output in fixed-length format with the capability to easily drop non-required fields
Provides full reporting on all transactions processed
Supported Environments
OS/390, z/OS, VSE, UNIX and Windows
Supported Versions of ADABAS
OS/390, z/OS, VSE - Version 6 or Higher (7 recommended)
UNIX, Windows - Version 3.2 or Higher
Supported Versions of NATURAL
OS/390, z/OS, VSE - Version 3 or Higher
UNIX, Windows - Version 5 or Higher
---
Download