Quick Product Links
---
Data Integration, Replication, and Migration
---
Application Modernization and Portfolio Management
---
---
OpenLegacy: Automated Legacy Modernization and Enterprise Application Integration

OpenLegacy is the world's first and only light-weight, non-intrusive solution for automated legacy modernization and enterprise application integration. With its standards-based, open-source platform, OpenLegacy enables enterprises to rapidly extend legacy systems to mobile, web and cloud applications; delivering risk-free, high-impact results that solve immediate business needs.
OpenLegacy's standard tools rapidly extract the services and information from within legacy systems into an editable format that puts the power of integration into the enterprises' hands without the expensive handcuffs of vendor lock in. Once a business process is exposed -- which can be done in minutes -- the output can automatically be transformed into stand-alone mobile, web, and cloud applications; and connected with other solutions. Most importantly, no changes are required to the legacy system in order for OpenLegacy to work -- the process is risk-free.
Building on open-source standard protocols, OpenLegacy's approach harnesses API technology to enable enterprises to quickly, easily and freely extend their backend services to the cutting-edge while maintaining the enterprise's robust and reliable legacy systems -- without vendor lock-in. Moreover, OpenLegacy can seamlessly work within the framework of current Services Oriented Architecture (SOA).
High Level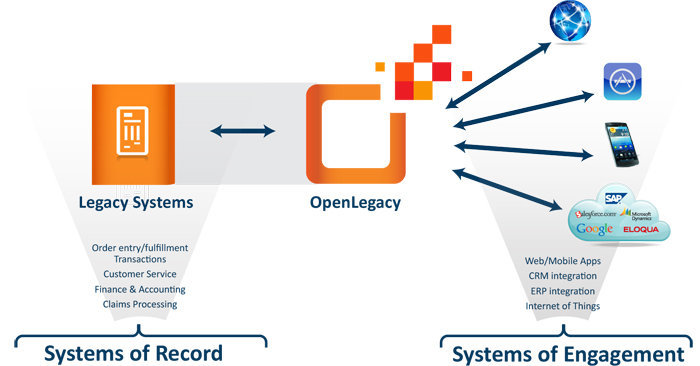 The OpenLegacy approach to liberating legacy applications and data silos into the world of mobile and cloud solutions is fast, risk-free, and easy to implement, without upfront costs or new hardware requirements.
Design Time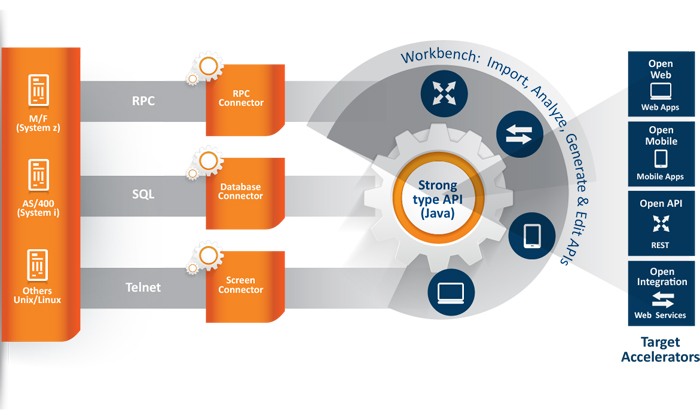 The Integrated Development Environment includes automated tools and easy to use editors -- everything needed to integrate legacy applications with modern clients.
Run Time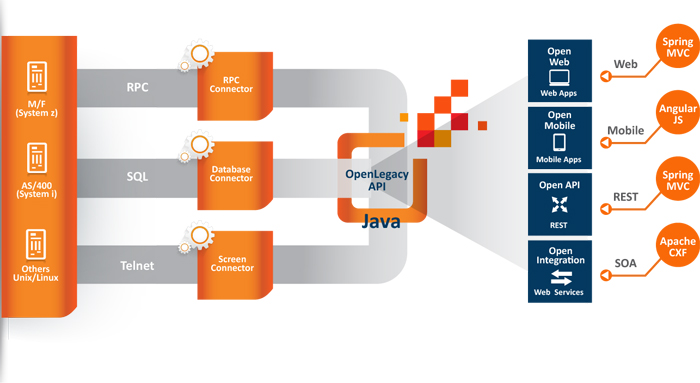 Written in standard, open source code; developers can use the automatically generated APIs as is or customize them, creating one-off or reusable templates to integrate between legacy systems of record and state-of-the-art systems of engagement.

More Information on OpenLegacy...
Design Time IDE, Multiple Legacy Connectors, Target Accelerators, OpenLegacy Migration System, Features
Supported Environments
OpenLegacy is based on open standards and familiar tools you use today for developing web, mobile and cloud apps including Eclipse, Maven, Spring MVC, AngularJS, and Apache CXF.
---
Downloads
OpenLegacy Customer Case Studies
Financial Services Web Service
Furniture Manufacturer Mobile Integration