Quick Product Links
---
Data Integration, Replication, and Migration
---
Application Modernization and Portfolio Management
---
---
tcACCESS Architecture and Case Studies
tcACCESS is a modular software solution. It consists of a base system that can either be implemented as a CICS transaction or as a VTAM application. The base system provides its own communication modules. The heart of the system is the tcACCESS SQL Engine which allows access to mainframe data sources using SQL statements. tcACCESS offers Listener components on the mainframe and on the client, as well as scheduling and security functions. Batch processors automate the information exchange processes between distributed applications.
The tcACCESS client components contain their own communication modules. Therefore, no additional middleware is necessary for the exchange of information between mainframe and client (server or workstation). The client components are available as MS-Windows ODBC driver/server and as JDBC server/driver for Unix, Linux and all platforms that support Java.
The tcACCESS import processors allow the automatic mapping of mainframe data. The mainframe data structure information (numeric, alphanumeric, packed, zoned, etc.) is determined based on copybooks, database data dictionaries, and DBD/ PSB modules for IMS/DB and DL/1. The tcACCESS MS-Windows based administrator application provides mainframe data transparency even for users without mainframe knowledge.
SQL queries to access mainframe data can easily be created using drag and drop techniques -- no programming is required. The result of the query can be immediately presented and viewed (i.e., Excel, MS-Access, etc.). Direct ODBC or JDBC access to mainframe data from any client/server or Web application can be easily implemented. It is only necessary to assign the tcACCESS driver to the application.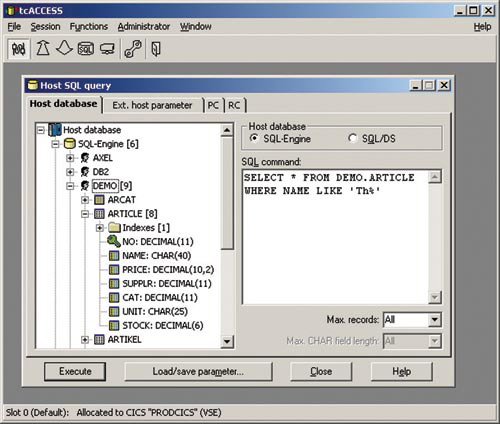 Extensive monitoring functions are provided to create audit trails. Load balancing functions guarantee the most efficient use of mainframe resources. The tcACCESS provided security or security system already in use (via our SAF-interface) assures that only authorized users can view and process the data.
tcACCESS | tcACCESS Architecture and Case Studies | View tcACCESS Instructional Videos
tcACCESS and tcVISION Customer Case Studies
tcACCESS/tcVISION Customer Success - vit (Vereinigte Informationssysteme Tierhaltung w.V.): Bidirectional ADABAS (z/OS)-to-Oracle (LINUX)
tcACCESS/tcVISION Customer Success - Bistum Mainz: tcVISION connects ADABAS/C with Windows MS-SQLServer
tcACCESS/tcVISION Customer Success - Blum: Bidirectional tcVISION v4 IMS and DB2 z/OS, and DB2 z/OS and DB2 LUW
tcACCESS Customer Success - Fendt Tractors: NATURAL applications use the tcACCESS SQL-interface to access DB2-tables on SAP R/3
tcACCESS/tcVISION Customer Success - Mabanaft: VSE - VSAM (Realtime CICS & Batch)
tcACCESS/tcVISION Customer Success - RDC Datacentrum: Bidirectional synchronization between CA-IDMS/DB and DB2/UDB and MS-SQLServer
tcVISION Customer Success - Basler Versicherungen: tcVISION replicates DB2 z/OS to DB2 on Windows
tcVISION Customer Success - Osterreichische Wertpapierdaten Service GmbH (OWS): tcVISION replicates DB2 z/OS to Intel-based Linux System
HANS KOLB Wellpappe: tcACCESS connects Mainframe CICS to Windows and LINUX

City of Leipzig: tcACCESS connects Mainframe IMS to Windows and JAVA Resources
---
Download