NatQuery: The Natural Data Extraction Answer for Adabas
With today's demand for data, organizations need to be able to respond quickly to data extraction requests, and this data may need to be placed in several different formats/targets.
In examining ways to handle extraction requests for data that resides in Adabas, it is impossible to overlook the fact that Software AG developed Natural specifically to provide for Adabas data reporting. As a result, it is virtually a given that your organization has historically solved the issue of extracting data from Adabas by utilizing Natural programs. However, using Natural to provide for data extraction from Adabas requires expertise and time, especially when the required Natural processes are hand-written. Once created, more expertise and time will be required in order to handle any needed maintenance or enhancements.
The answer to this problem is simple: a full GUI tool that has Natural data extraction intelligence built in, and the automatic ability to quickly "learn" the nuances of your Adabas source files. The combination of intelligence and file-specific knowledge then provides the expertise needed to allow a user to intelligently generate and execute data extraction processes without any need for programmer or IT intervention.
NatQuery is the Natural answer to Adabas data extraction and replication that leverages the inherent power of what Natural was designed to do, while at the same time removing the need for any in-depth training and/or knowledge of Natural, Adabas or any of the other intricacies of the operating system on which Natural and Adabas reside.
You already know how well Natural works with Adabas. NatQuery simply allows your organization to use Natural even more effectively than you do today.
NatQuery: A Natural evolution in delivering data stored in Adabas.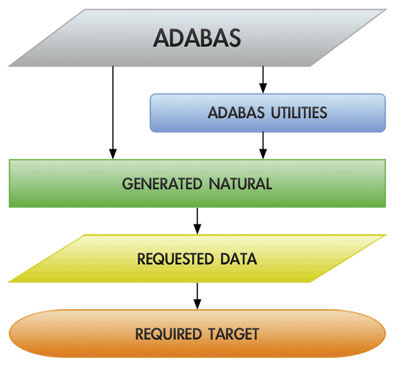 General List of Features
Graphical generation of ready-to-execute Natural data extraction programs and processes that support both end-user and data warehouse extraction needs

Extracts data directly from Adabas or from Adabas backup tapes

NO server installation required

NO middleware beyond basic FTP

Supports both Summary and Detail Extraction

Supports extraction from multiple source files

Supports automated and direct integration with numerous targets such as: Microsoft Excel, Microsoft Access, XML, popular relational DBMSs and ETL tools such as Ascential Software's DataStage Suite

Supports extraction from DB2 and VSAM data sources in Natural for DB2 and Natural for VSAM environments

Supports Adabas-to-Adabas replication
Download
Office Location
2605 Nicholson Road, Suite 1230
Sewickley, PA 15143
USA
Contact Us
General Email:
tsi@treehouse.com
Sales Department:
sales@treehouse.com
Support Center:
support@treehouse.com

Normal business hours are
Monday - Friday,
8:30 AM - 5:00 PM
Eastern Time USA
If you have a critical support issue after hours that requires immediate assistance, please contact us via our after-hours service by calling (412) 324-1525.