PROFILER for Natural: A Natural Quality Assurance and Testing Tool
PROFILER enables sites to thoroughly test Natural applications, resulting in lower maintenance and support requirements.
PROFILER can help identify problem programs and statements, inefficient code, poor application structure, expensive database accesses, and weak test data and procedures.
Ensuring Complete Test Coverage
PROFILER monitors the execution of Natural object code, generating statistics from the application level to the Natural statement level. Statistics include CPU Time, Database Elapsed Time, Program Run Count, Statement Execution information, and other valuable run-time data. PROFILER continuously monitors the execution of Natural programs, providing more complete and reliable statistics than "snapshots".
PROFILER shows the percentage of a Natural program or application that has been tested. PROFILER identifies untested statements in a Natural program. Critical test data can be built to satisfy all untested conditions, assuring application quality.
Statistics for copycode are collected during program execution and reported by PROFILER. Blocks of Natural Optimized Code are identified.
Background Monitoring
PROFILER Background Monitoring eliminates the need for individual programmers to learn PROFILER or be aware that it is active. Statistics collection can automatically be activated for one or more users, based upon User-ID, Library, Program, and Date/Time.
Flexible, Powerful Reporting Features
PROFILER offers extensive reporting capabilities, showing detailed statistics about the execution of Natural programs based on a single User-ID and profiling session.
The PROFILER Enhanced Reporting feature offers additional reports, which combine statistics for multiple users and sessions. With the Enhanced Reporting feature, sites may customize and write their own reports for unlimited reporting possibilities.
PROFILER Trace Source Code Report. This report shows the flow of execution for programs in the library PAYTEST: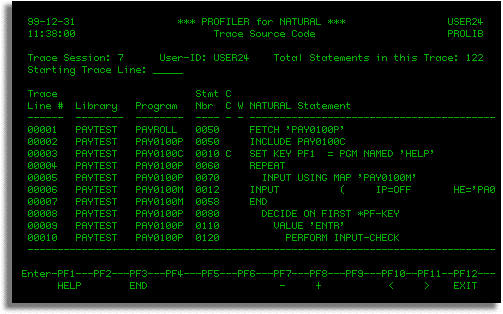 Ease of Use
The PROFILER user interface is written in Natural, for familiarity and ease of use. PROFILER requires no changes to Natural application source or object code.
Software AG Interface Partnership
Treehouse Software and Software AG of Germany signed an Interface Partnering Agreement for PROFILER. Treehouse Software and Software AG will ensure that PROFILER remains compatible with all new releases of Software AG products.
Compatibility and Requirements
PROFILER operates under Z/OS and VM/CMS.
Downloads
Office Location
2605 Nicholson Road, Suite 1230
Sewickley, PA 15143
USA
Contact Us
General Email:
tsi@treehouse.com
Sales Department:
sales@treehouse.com
Support Center:
support@treehouse.com

Normal business hours are
Monday - Friday,
8:30 AM - 5:00 PM
Eastern Time USA
If you have a critical support issue after hours that requires immediate assistance, please contact us via our after-hours service by calling (412) 324-1525.