Quick Product Links
---
Data Integration, Replication, and Migration
---
Application Modernization and Portfolio Management
---
---
tcVISION - Comprehensive Enterprise Mainframe-to-Amazon Web Services (AWS) Data Replication
As a Technology Partner in the AWS Partner Network (APN), Treehouse Software understands the necessity of having a straightforward solution for enhancing business agility. Treehouse provides a proven Mainframe-to-AWS data replication solution, and customers benefit from modernizing their data within within the flexible, scalable, pay-as-you-go offering on AWS.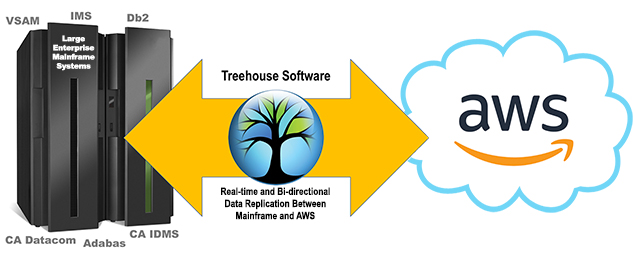 tcVISION is a powerful and comprehensive solution for real-time, bi-directional replication of mainframe data to AWS. tcVISION's GUI modeling and mapping, and ease of migrating data to AWS makes it an ideal choice for modernizing large mainframe environments. Additionally, tcVISION can synchronize mission critical data from a mainframe system on AWS. Real-time, bi-directional data synchronization enables changes on either system to be reflected on the other system (e.g., a change to a PostgreSQL table on AWS is reflected on the mainframe database). This allows businesses to modernize an application on AWS without disrupting the existing critical work on the legacy system.
Video - How does tcVISION replicate mainframe data to AWS?
| | |
| --- | --- |
| | tcVISION is ready to meet all AWS Cloud requirements, technologies, and challenges. tcVISION's support for AWS Cloud as a target is fully integrated alongside traditional Linux/Unix/Windows (LUW) targets such as PostgreSQL, Oracle Database, IBM DB2 LUW, Software AG Adabas LUW, IBM Informix, Sybase, Microsoft SQL Server, and ODBC. |
tcVISION Technology
tcVISION considerably simplifies mainframe data exchange processes. The structure of the existing mainframe data is analyzed by tcVISION processors, then automatically mapped to a target data mapping. The data mapping information is presented in a user-friendly and transparent format - even for users with no mainframe knowledge.
The mapping information is saved in a meta data repository hosted on a relational database, and can easily be made available to other applications. The Windows-based Control Board of tcVISION provides an easy-to-use facility to administer the data flow. tcVISION provides a variety of interfaces to allow seamless integration with ETL or EAI solutions.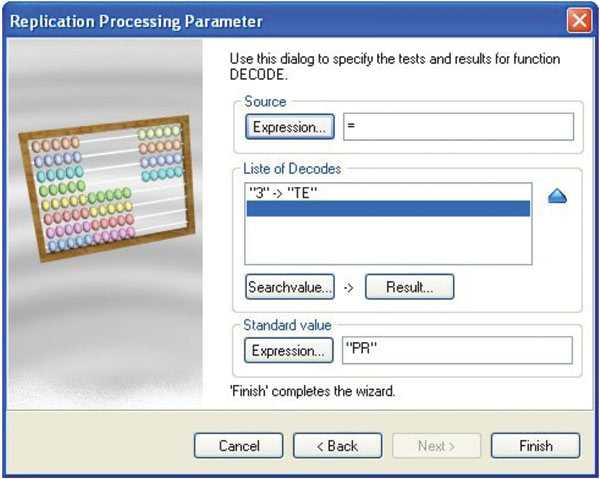 tcVISION offers different CDC methods to identify mainframe data. The change data capture method deployed depends on the source database (DB2, VSAM, DL/1, IMS/DB, ADABAS, CA-IDMS, DATACOM/DB, SQL Server, Oracle), the data volume, the volume of changed data and the required currency of the information. Changes are automatically transferred to the targets in time intervals or in real time by tcVISION data change publishing facilities.
View tcVISION Instructional Videos
Downloads
White Paper
Legacy Data Migration: DIY Might Leave You DOA
---
Customer Case Studies
Element Fleet Management: tcVISION Real-time, Bi-directional Synchronization Between IBM Mainframe Datacom and PostgreSQL
Suddeutsche Krankenversicherung (SDK): tcVISION for synchronization between VSAM and Microsoft SQL Server
BAWAG P.S.K.: tcVISION for real-time replication to Apache Hadoop
Bishopric of Mainz: tcVISION connects ADABAS/C with Windows MS-SQLServer
Vereinigte Informationssysteme Tierhaltung w.V.: Bidirectional ADABAS (z/OS)-to-Oracle (LINUX) with tcACCESS and tcVISION
Blum: Bidirectional tcVISION v4 IMS and DB2 z/OS, and DB2 z/OS and DB2 LUW
BRUNATA: Data Integrity Between Different Database Worlds (DL/I, DB2) with tcACCES and tcVISION
EADS: tcACCESS and tcVISION allow Mainframe IMS to SQL Server
Fendt Tractors: NATURAL applications use the tcACCESS SQL-interface to access
DB2-tables on SAP R/3
Mabanaft: VSE - VSAM (Realtime CICS & Batch)
RDC Datacentrum: Bidirectional synchronization between CA-IDMS/DB and
DB2/UDB and MS-SQLServer
Basler Versicherungen: tcVISION replicates DB2 z/OS to DB2 on Windows
Osterreichische Wertpapierdaten Service GmbH (OWS): tcVISION replicates
DB2 z/OS to Intel-based Linux System
HANS KOLB Wellpappe: tcACCESS connects Mainframe CICS to Windows and LINUX

City of Leipzig: tcACCESS connects Mainframe IMS to Windows and JAVA Resources
---