Treehouse Software Customer Case Study:
B-Source SA
The following is a recent discussion between Livio Varisco and Roberto Licandro at B-Source SA in Lugano, Switzerland and Treehouse Software Project Managers.
Please describe your organization.
B-Source (formerly Boss Lab) is a Swiss company specializing in providing IT services and Bank Back - Office services to banks and insurance companies by means of an "outsourcing business model". B-Source provides these services to clients in Switzerland and abroad.
Value proposition, our services
Business Service Provisioning (BSP): B-Source's - and third-party - banking software that is operated by us in our two data centers and B-Source's bank back office administration services that are performed by us "on behalf of the bank".


Application Service Provisioning (ASP): B-Source's - and third-party - banking software that is operated by us at our two data centers.


Operations Service Provisioning (OSP): B-Source's data center services.

Our target market
Banks, in private banking and asset management, in Switzerland and their international affiliates, branches, and/or partners.


Retail banks in Switzerland.


Insurance companies.

Certifications and credentials
All B-Source services are compliant with the Swiss Federal Banking Commission legislation rules and standards and are certified by external auditors each year.


Two data centers in Lugano and Zurich secure business continuity.


ISO 9001 certification for the entire company, including the ASP and BSP processes.


CMMI level 2 certification for software application development in progress.


Core partner of the Competence Center Sourcing at the University of St. Gallen's Institute for Information Management.

Who does the application currently support?
Our Banking Operations Support System - an integrated banking system that supports most of a bank's front- and back-office activities, from loan and securities processing to marketing and internal audit in a multi-language, multi-currency, multi-regulation, and multi-legislation environment.
Can you elaborate on the Database and File environment for the application?
Our core system is integrated in a core database where all operations are executed and the data is stored. We developed interfaces to connect our system to third party solutions or external financial data providers (i.e., SWIFT, SIC, SIS, Reuters).
Please describe the business objective for the application.
Entirely covers the private and retail banking requirements


Fully integrated with the Swiss and international banking community and Swiss FBC laws


Fast and cost effective implementation


Highly automated back-office functions


One single and consistent data view (operations and MIS are equivalent)


Parameter-driven process support

Please describe the target RDBMS (ORACLE, DB2, SQL Server, etc.).
To better support data integration and the analytical platform, we designed and implemented an architecture based on a Operational Staging Area (OSA) and an Operational Data Store (ODS). These solutions are using an ORACLE 9i RDBMS.
Please describe your core application at B-Source SA.
The following diagram shows how our services portfolio is composed: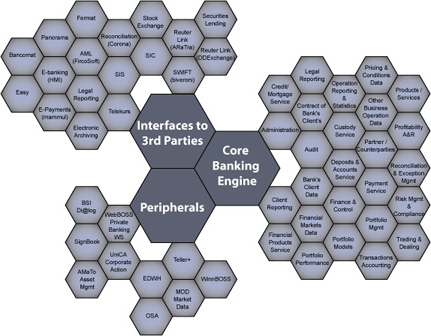 Environment & central information file


Accounting


Securities & derivatives


Portfolio Performance


Commercial transactions


Bank's own portfolio


Money transfer and "Teller light"


Printing output management


Forex & treasury


Financial derivatives


Reconciliation


Management Information System


Loans & collateral


Internal auditing


Money market


Fiduciary deposits

How did/does tRelational and DPS factor in the success of the OSA/ODS Project?
tRelational and DPS are the tools that allowed us to reach our goals in a pragmatic and non-invasive way.

The concept and architecture underlying tRelational and DPS are very smart because they do not work directly on the database nucleus, but use the standard database recovery support instead. This avoids burdening the nucleus, and thus not to affect the performance of the operating database, as shown in the diagram above. For example, a job running every two hours for a few minutes to propagate the updates would never burden the system in a significant way.
How many customers do you support?
Currently we offer our services in the different mentioned models to fifteen customers.
Please describe the project and how you arrived at the selection of the TSI product solution.
The data integration from the core banking engine into other data management systems (e.g., RDBMS, flat files) was done by using scheduled programs that run during the batch. This solution, which eventually grew over time, became difficult to maintain in terms of the required human and infrastructure resources. Moreover, we are convinced that an RDBMS and the SQL language are better solutions to support DB inspections and extractions with common tools. Therefore, we implemented the following architecture as shown in the following diagram: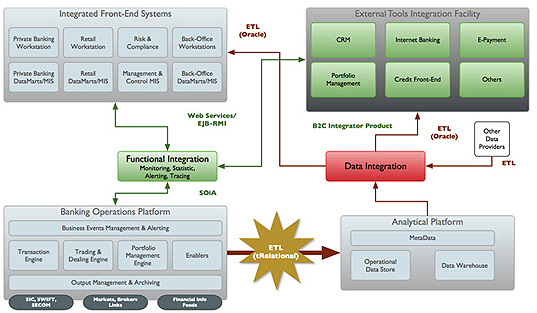 What were/are the most challenging aspects of the OSA/ODS Project?
The two main challenges were:
Selection of an ETL tool capable of directly extracting data from the database engine in an easy, performing, robust and secure way.


The short time to perform a Proof of Concept with the selected tools and the implementation of a productive solution.

Are you satisfied with the products, support, and services TSI provides?
Yes. Thanks to the professional support of TSI, in particular Mr. Hans-Peter Will, we have been able to perform the Proof of Concept and the installation into the production environment in a very short time.
But also afterwards we appreciated TSI's support for the education and for the solution definition. The product was tuned during the set-up phase with quick adjustment interventions. Since we went into production (September 2004) we have not to face problems due to the products, whose stability and performance allow extracting a 2-hour online PLOG, and upload it to ORACLE in a few minutes.
Office Location
2605 Nicholson Road, Suite 1230
Sewickley, PA 15143
USA